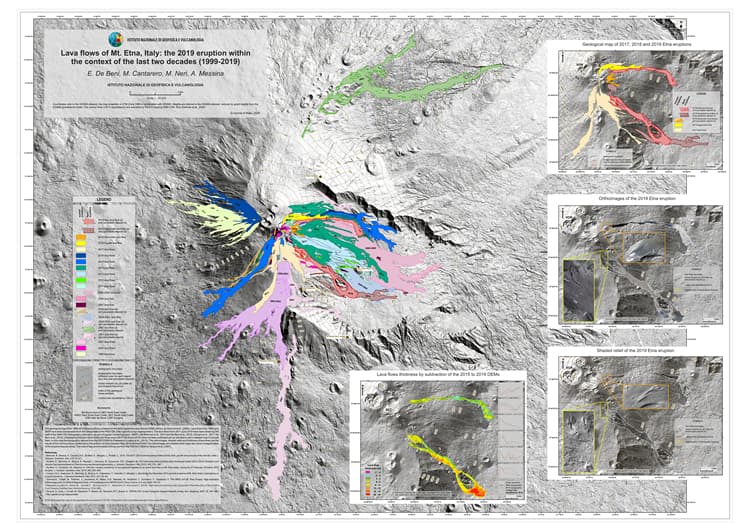 Emanuela De Beni, Massimo Cantarero, Marco Neri & Alfio Messina (2020): Lava flows of Mt Etna, Italy: the 2019 eruption within the context of the last two decades (1999–2019), Journal of Maps, DOI: https://doi.org/10.1080/17445647.2020.1854131
Published online: 16 Dec 2020
Abstract
UAVs have become a useful tool for natural hazard monitoring. In volcanic areas, they allow wider observations of the eruptive behaviour, with no risk for the operator. The SfM technique enables obtaining orthoimages of lava flows and a DEM in a short time. These data are also useful to estimate lava flow volumes and the mass output rate characterizing an eruption. We present the results of ten UAV surveys made during and after the 30 May – 6 June 2019 eruption of Etna volcano, projecting the data in a time context back until 1999. Orthoimages taken on different days allowed monitoring the morpho-structural evolution of the fissures, capturing the lava flows propagation and the accumulation of pyroclastic deposits. From 1999 to 2018, there were nine flank-eruptions and dozens of summit-eruptions, which for graphic simplicity have been grouped by year in the map. The resulting map represents the most updated of the recent lava flows of Etna.
KEYWORDS:
Lava flow mapping, Etna, UAV, volcanological monitoring, SfM technique
This is an Open Access article distributed under the terms of the Creative Commons Attribution License (http://creativecommons.org/licenses/by/4.0/), which permits unrestricted use, distribution, and reproduction in any medium, provided the original work is properly cited.​