RESEARCH ARTICLE| OPEN ACCESS | NOVEMBER 10, 2021
Federica Ferrarini, J. Ramón Arrowsmith, Francesco Brozzetti, Rita de Nardis, Daniele Cirillo, Kelin X. Whipple, Giusy Lavecchia.
Late Quaternary Tectonics along the Peri-Adriatic Sector of the Apenninic Chain (Central-Southern Italy): Inspecting Active Shortening through Topographic Relief and Fluvial Network Analyses.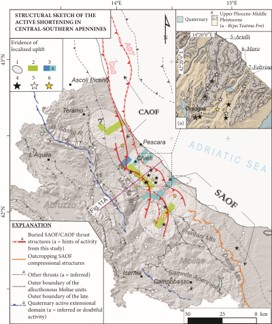 Lithosphere 2021;; 2021 (1): 7866617. doi: https://doi.org/10.2113/2021/7866617
Copyright © 2021 Federica Ferrarini et al. Exclusive Licensee GeoScienceWorld. Distributed under a Creative Commons Attribution License (CC BY 4.0).